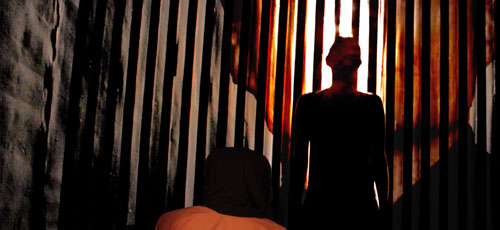 Ask The Question
A play by Jeff Nichols
Synopsis
Can the Pakistani engineer accused of terrorist ties convince you he's innocent? Will you drink the Elixir of Enlightenment offered by Loreleii's radical free-market Leader? Is the Iraq vet suffering from post-traumatic stress disorder or completely insane? And did that poet make the whole show up or is she just a creation herself?
A series of character monologues, spoken word, dance, and live music explore faith, ideology, and loss of certainty in contemporary America. Answers are impossible to pin down, but the struggle to find them makes for a fascinating journey.
Ask the Question premiered in 2008 at The Marsh in San Francisco.
Performance Info
Venue: Bryant-Lake Bowl
Dates: Thursday Nov. 3rd, Thursday Nov. 10, Thursday, Nov. 17. Doors at 6, Show at 7pm.
Tickets: $12/$10 students with i.d. or anyone with a Fringe button.
Call 612-825-8949 or visit www.bryantlakebowl.com for tickets.
CRedits
Aly Westberg (The Author) is a graduate from the University of MN Duluth where she received her B.F.A. in Musical Theater.  Most recently, you could have seen her in The Sound of Music, playing Maria, or in the hilarious sketch comedy Bye Bye Liver: the Twin Cities Drinking Play.
Lijesh Krishnan (Ahmed Kahlil Khan) would like to thank Jeff for the opportunity to be a part of producing this amazing script. His previous credits include Lysistrata and The Visit at Theatre on the Park, Change Agent at Savaali, One for the Road with Killing Joke, The Balcony at Nimbus Theatre, and The Laramie Project with the Eat Street Players. He thanks Colin for his loving support.
Alex Cotant (The Initiated One) is elated to be part of this great cast. Trained at the New Actors Workshop in NYC, he performed in Madison, WI for two years before moving to the Twin Cities. His Madison credits include: Macbeth (BST), Hamlet (IDAPS), Threepenny Opera (Madison Opera) and Dr. Jekyll and Mr. Hyde (Strollers). Most recently he appeared in Fallout at the Loring Theater.  Alex would like to thank Jeff Nichols, as well as his family and friends.
Christian DeMarais (Alex Dobson) is an AEA-EMC actor who has performed all over the country in mediums of both stage and film.  Recent credits include: ORDWAY (Yankee Doodle!, Singin' in the Rain), LOWRY LAB (Thrill Me: The Leopold & Loeb Story), GUSTAVUS (Hamlet), ST CROIX FESTIVAL THEATRE (Red, White & Tuna), FILM (Respice Finem, James, The Perversion of Günter Ingvarsen, Though This Be Madness (also writer), The Hamlet Experiments, Health Freaks.)
Directed by: Jeff Nichols
Musical Direction and Performance: Karen Elaine Massey
Lighting Design: Miles Bard
 Video
Click: Video Link to Ask the Question Intro