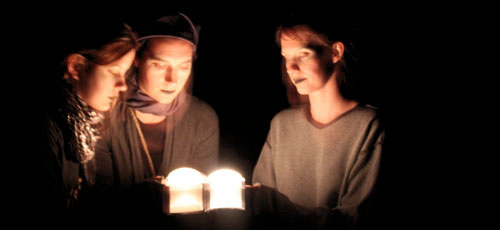 Echobell
A short play by Jeff Nichols produced by Theatre Terra Firma
Synopsis
In a world of absolute darkness, the High Creator of Sound attempts to restore Full Light to the world.  Teaching her daughter, Echobell, the power of sound vibration,  a fragment of the Light returns.  But should the Light be brought to the full council for the ritual of joining senses, or will the Sound Tribe act alone?
Performance Info
Venue: Blank Slate Theatre, St. Paul, MN
Dates: Thursday Feb 9, Friday Feb 10, Saturday Feb 11. All shows at 7:30 PM.
Tickets: $5
Credits
Theresa Augsburger: Hears Well
Karen Elaine Massey: Echobell
Ali Daniels: Always Listening
Directed by: Jeff Nichols
PHOTOS
Video
Senses Askew production – NYC
Click here 5:1 Five Short Plays
Click here Senses Askew Website