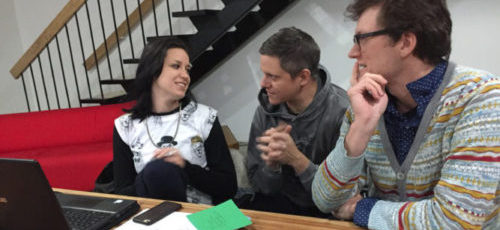 FEVER // variations
Ghostbridge Theatre's current in-progress project –  FEVER // variations – explores the concept of three unique, yet intricately interwoven, iterations of a fever, or the state of our current & ever fast-approaching reality. Personal, Societal, and Global fever. We have been working on FEVER // variations for a couple months now, exploring through collaborative creation co-led by our Artistic Director, Jeff Nichols and Artistic Associate, Tera Kilbride. We are planning performance dates for early-mid 2018.
FEVER // variations collaborators include:
Company members –
Jeff Nichols, Artistic Director
Tera Kilbride, Artistic Associate
Karen Elaine Massey, Executive Director / Artistic Associate
Eric Larson, Artistic Associate
Michael Hearn, Costume Designer / Props
with Thomas C Lang, Composer / Artistic Collaborator
~~~~~
Check back periodically for updates on our new project.
We'd also love for you to LIKE us on Facebook for our most current updates (link in right sidebar)
Thanks!
Jeff, Karen, Tera, Eric, Michael, & Thomas