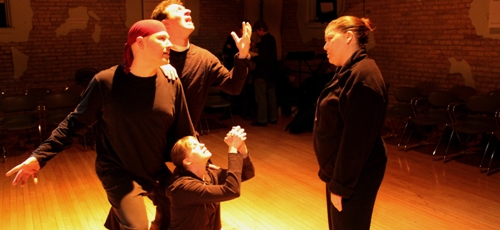 Four Actors in Search of A Moment
Written and directed by Jeff Nichols
The latest version of Four Actors employs a highly physicalized movement style developed in rehearsal by Jeff Nichols and Off-Leash Area's Jennifer Ilse.  Live music by members of The Poor Nobodys and a solo dance by Jennifer Ilse complete the performance event surrounding hapless actors: Adam Scarpello, Jody Bee, Eric Cohen, and Karen Elaine Massey.
Check back to this page often. We will be adding more links to blog posts on the subject matter and our process, as well as some new media (photos, video, etc).
SYNOPSIS
Bereft of identity and personal gravity, four actors are lost on the stage.  Filling their time with theatre games, switching roles, word-play, and their own twisted versions of classics, the four gradually reclaim memories of their real selves.  A comic journey to self-realization in the guise of a theatrical reality, Four Actors in Search of a Moment follows a script to its logical conclusion, then abandons it.
PERFORMANCE INFO
Venue: Fallout Arts Studio 3 – 2601 2nd Ave South, Mpls
Dates: Friday & Satuday, Feb. 15, 16, 22, 23
Time: 9 pm Music by members of The Poor Nobodys; 9:45 pm The Play
Tickets: $12-15 cash at door OR visit brownpapertickets.com to pre-order

Credits
Jennifer Ilse as The Great Spirit
Adam Scarpello as Stage Directions
Jody Bee as Hears Well
Eric Cohen as Always Listening
Karen Elaine Massey as Echobell
Directed by: Jeff Nichols
Movement Consultant: Jennifer Ilse
Lighting Design: Ben Kolis
Reviews & Articles
Click here www.watchingthetide.com's "Four Actors" review
Click here Paul Herwig's audience review
Click here MN Daily feature article
Blog links
Click here Blog post #1 – "Four Actors in Search of A Moment"
Click here Blog post #2 – "New Work"
Photos